Baby Room (Under 1 year)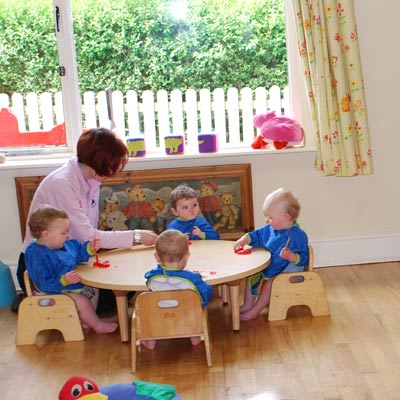 Babies have their own room which is especially decorated and equipped to suit this age group. The materials and equipment aid their cognitive, emotional and physical development. They are stimulated in a learning environment where holistic play is central. Tactile equipment and toys is central to this room and helps to encourage children to explore and satisfy their natural curiousity. Babies can explore, crawl and toddle under the watchful eye of loving staff who are handpicked for this important role.
Wobblers (1 – 2 years)
and Toddlers (2 – 3)
At Oaklands, we recognise that during these early years the stage is set for the years that follow. Therefore Oaklands has designed a special programme for this extraordinary time in the development of your child. Each child needs to develop a sense independence that comes from being treated as an important individual and being allowed increasing opportunities for freedom. The child's formative years are critical for the development of the brain and language. At Oaklands your child's world will be filled with responsive interactions, conversations, creative activity, role play, stories and music.
Pre-Montessori and Montessori
The preschool learning environment is primarily based on the Montessori Curriculum which is used in many high-quality early education settings internationally. At the core of the Montessori Curriculum is the "prepared environment" which provides all the educational equipment and materials to aid the growth and development of each child. The materials allow for holistic learning and discovery, offering a wide range of intellectual challenges. The development of language, mathematical reasoning, and scientific thought is emphasised throughout the programme. Changes to the learning environment, activities, and projects reflect emerging interests and individual goals. The Montessori programme prepares children to move on to primary school as independent individuals who can now easily cope with this transition and be successful in their next stages of education.
Afterschool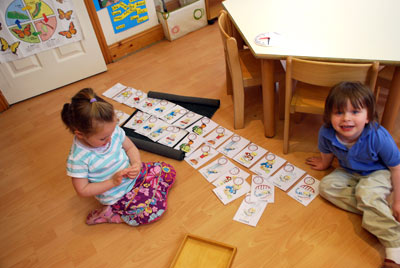 After School Children want and need something different! Our After-school programme provides a stimulating and comfortable environment for your child. A special programme to meet the unique needs of this age group has developed. Time is allocated for free play, arts & crafts, baking, drama, role play, music & movement, story time, construction toys and outdoor play. A comfortable area is provided where children can relax and read to allow for children to have some "quiet time" to themselves.
Children can complete their homework in a prepared environment with an adult present to answer any questions your child may have.
---
Oaklands House Fees 2022
Please click here to view Oaklands Fees 2022
---