Staff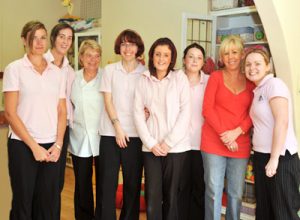 Oaklands was set up in 1986 by Yvonne Donnelly and with a team of highly qualified early years specialists runs a high quality service totally committed to the child and the families who use the service. The staff team are carefully selected and are all Garda vetted. They are selected for their qualifications, experience and personal qualities. In addition to their childcare or Montessori qualifications all team members are trained in first aid. We are delighted to have such a loyal, knowledgeable and progressive team at Oaklands.
Our Commitment
Oaklands believes in full partnership with parents
Oaklands aims to deliver a quality care and play curriculum which addresses children's well-being, identity and belonging, communication and exploring and thinking, along the principles of Aistear, the Early Childhood Curriculum Framework
Oaklands is a place where your child will flourish and will be prepared for their life ahead
Oaklands ensures the safety of all children in our care
Oaklands will be highly responsive to your child's needs where active, individualised, developmentally appropriate learning is the key to success
Oaklands encourages a culture of respect for all people and for the world in which we live
Oaklands works to the highest possible standards and will continue to learn how to improve
Nutrition
When you arrive at Oaklands don't be surprised if you are greeted with the aroma of freshly baked bread or scones wafting through the air. Food is cooked daily on the premises and baking is a regular feature in our service. Much of the fruit and vegetables used in Oaklands comes fresh from the fields of North County Dublin. At Oaklands we promote healthy eating and value the importance of nutrition and therefore our aim is to provide a varied and nutritional menu which the children enjoy. By introducing different tastes and textures at an early stage children develop excellent eating habits that will stay with them throughout their lives. We are also equipped to accommodate children who have special dietary requirements. The menu for each day is on display for parents to see in reception.
Curriculum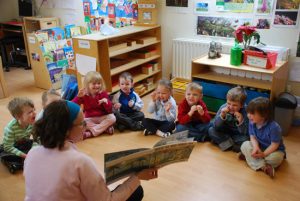 Oaklands provides a comprehensive play based and Montessori curriculums. This is combined with other good practice methods.
The Curriculum is based on the following:
Encouraging each child's holistic development and learning requires the implantation of a verifiable, broad-based, documented and flexible curriculum or programme
Síolta – the National Quality Framework for Early Childhood Education
Active learning, relationships, play, language, and meaningful experiences are priorities for supporting children's early learning and development
Aistear-The early Childhood Curriculum Framework
Oaklands offers a range of learning opportunities to children, which are appropriate to the child's stage of development. The service is fully committed to being guided by the principles of Síolta and the new curriculum framework Aistear.
We recognise how important high-quality early childhood experience can be in children's lives. This Curriculum aims to encourage active learning, problem solving, effective communication, creativity and socialisation. It aims to give children a good start which will benefit their long-term success in life.
Oaklands believes that children learn best when they:
Participate in making decisions as much as possible
Make choices and contribute to learning experiences
Share their opinions and diverse experiences and discuss their learning
Have positive role models within the staff team
Learn in a responsive and supportive social environment
Learn through multi-sensory experience
Participate actively in experiences that engage them emotionally, physically, cognitively and socially
Outdoor Play
Oaklands is very proud of its state-of- the-art outdoor play area which has recently been renovated. Children at Oaklands have an opportunity on a daily basis to engage in a variety of outdoor play experiences in a safe and secure environment.
Many of the developmental tasks that children must achieve—exploring, risk-taking, fine and gross motor development and the absorption of vast amounts of basic knowledge—can be most effectively learned through outdoor play.
Oaklands House Fees 2022
Please click here to view Oaklands Fees 2022